PP Wound Cartridge Filters
PP Wound Cartridge Filters
• The wire-wound filter cartridge is a filter element in which the textile fiber yarn is tightly wound around the porous frame to control the density of the filter layer and the shape of the filter hole to form different filtration precision.
• Can withstand high filtration pressure
• Good chemical compatibility
• The Wound Filter cartridges are available in a variety of materials to suit a wide range of liquid filtration needs
• Filters the structure inside the pores and has a good depth filtration effect.
• It can effectively remove suspended solids, particles, etc. in liquid, with small pressure drop and large amount of dirt.
The wire-wound filter element is made of textile fiber roving, which is tightly wound on the porous skeleton according to a specific process to form a sparsely dense inner honeycomb structure. It has excellent filtering characteristics and can effectively remove suspended matter, rust, particles, etc. in the fluid. Impurities.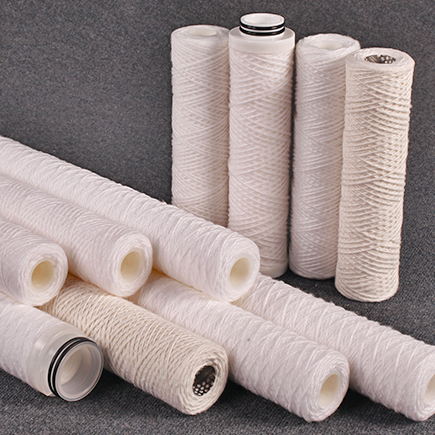 The wound filter cartridge can be fit for:
Wine filtration,
Soft drink filtration,
Dairy product filtration,
Bottled water filtration,
Fruit wine filtration,
Juice filtration,
Edible oil filtration.
Micron range of our wound filter cartridge, 1, 5, 10, 20, 30, 50, 75, 100 um.

Our products are widely used in bio-pharmaceutical, microelectronics, food and beverage, power generation, petrochemical, metallurgy, drinking water and swimming pool water treatment, machinery manufacturing, automobile production and other industries. Products are sold all over the world, including the United States, Europe, the Middle East, Southeast Asia, and domestic regions. More and more well-known multinational companies have joined our customers. The company's sales exceeded RMB 100 million for three consecutive years and continued to grow.